In China, recent years has witnessed the development and application of drones. Many UAV manufacturing company is listed and with more and more upcoming investment, the UAV market is blooming in an unprecedented scale. And slip ring manufacturing, as a downstream industry, also meets challenge and opportunity. JINPAT Electronics, is a specialist in slip ring R&D, production, sales and service. JINPAT also plays a key role in providing rotary solutions for UAVs in both military field and commercial area.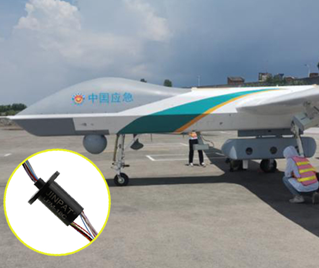 Since the surveillance and combat drones can be applied in both the military field and civil purpose like artificial rainfall, emergency communication and survey mapping, etc. That is to say, more sensors with specific functions need to be added aside from the photoelectrical rotary turret and satellite antenna. To support wireless electronic parts to function while allowing them to rotate, slip rings or rotary joints that can pass power and signals are necessary. Specially to allow multiple functions, brand new design slip rings are demanded.
JINPAT Electronics as a slip ring manufacturer with excellent technical strength and rich experience, provides rotary solutions for photoelectrical turret, satellite antenna, UAV wireless ground control system and so on. JINPAT has many successful cases and custom solutions to cater complex functions of the drones.
For small size, commercial purpose UAVs, JINPAT recommends custom solutions based on the capsule slip ring series. The mini size slip ring is sufficient to integrate light channels to transmit signals and power for the small drones. The miniature slip ring branch features super compact size and light weight. Besides, JINPAT products go through vigorous tests, and our products are very endurable. As for military intension, integrated slip rings are good choose. Clients can order a photoelectrical integrated slip rings to enhance data transmission efficiency.
JINPAT Electronics has many flexible and multi-functional slip rings for drones. Contact us to get some recommendations.